Well now, following the excitement of the giveaway, I've been up to my ears in focal beads, and have finally finished listing all the new selections. You'll have to excuse a quick bit of patting myself on the back, because six of them have already sold!!! I know!!!!! I'm completely blown away by it. I haven't caught the sound of our Bond girl squealing yet, so I guess the postal service is doing it's usual feet dragging, and keeping her in a state of mildly stirred, but not shaken!! OK, no more corny Bond references - sorry about that.
So, obviously, you're all agog, and can't wait to see all the little beauties - am I right?? NO? Aw shucks, well, that's tough because you're going to see them anyway!! Well no, not all of them, that really would be too much, as I've listed 20 of them, so I'll just show you my favourites.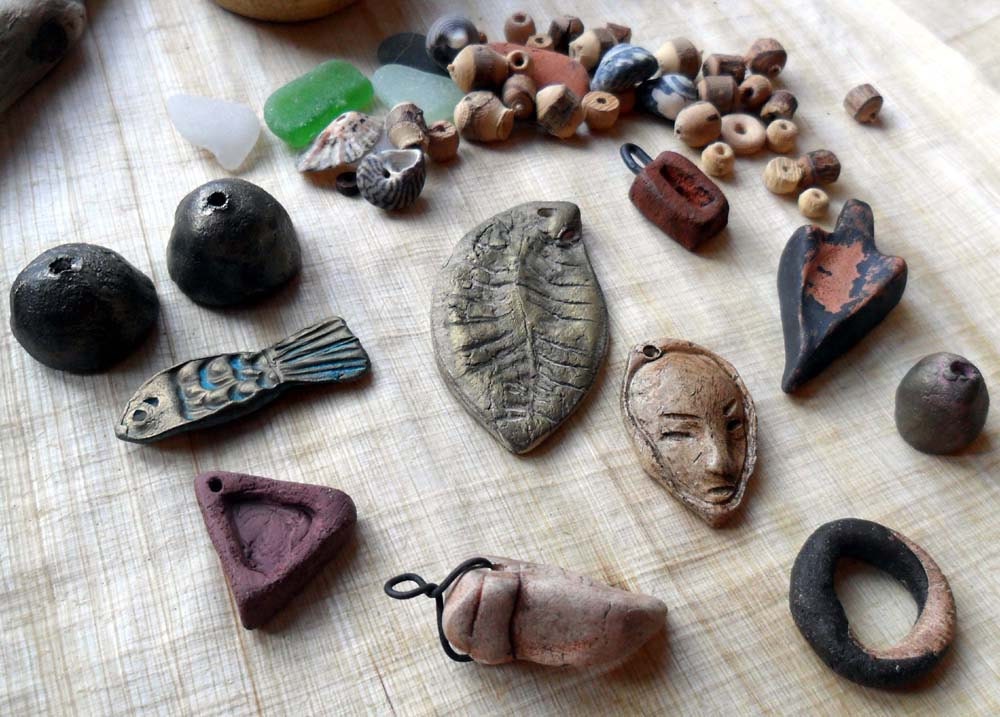 Progression - SOLD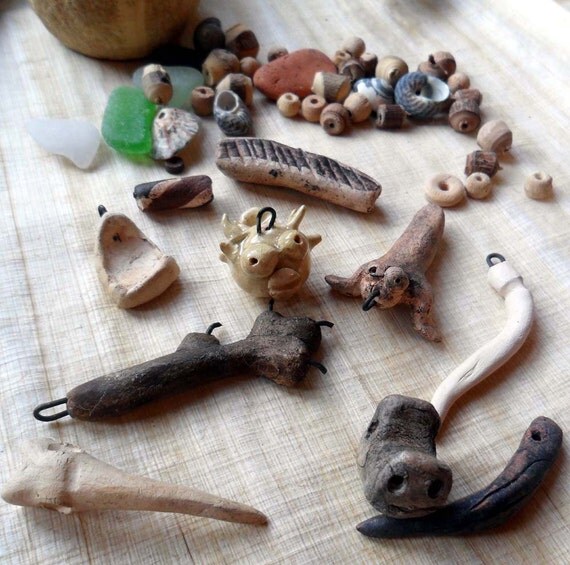 All Creatures Great and Small - SOLD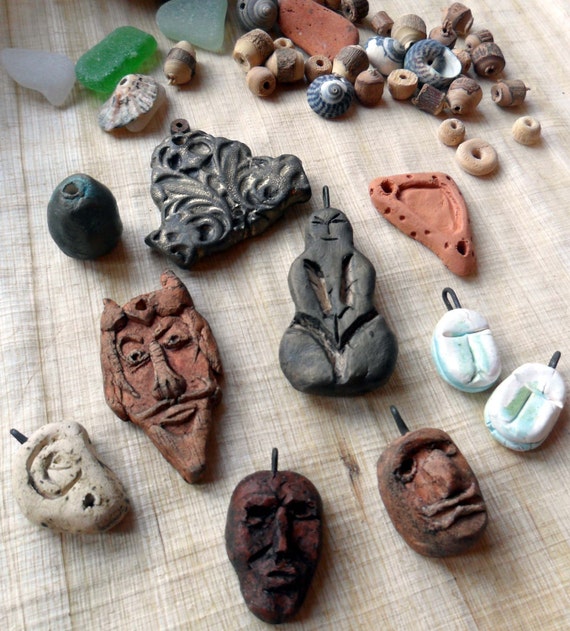 Good and Evil - SOLD
The Devil's Work
Faces of Man
Navajo Dance


Enough?? Ok, ok - well, that's all I've got - there's no jewellery of my own (don't all cheer at once!), but Fanci has been making pretty with some of my bits of thing - LOOOK!!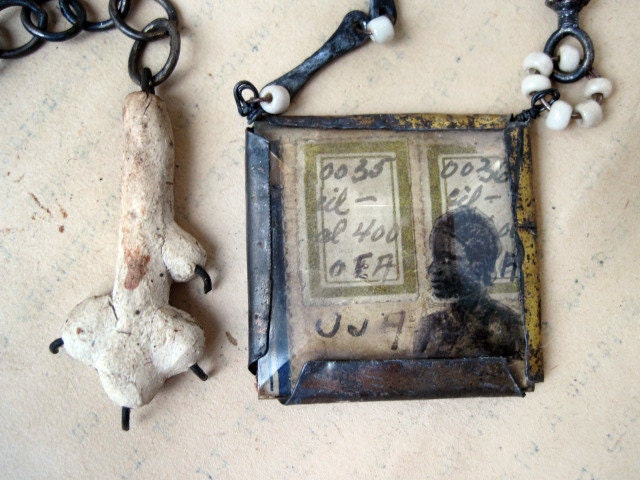 Indigene. Rustic Gypsy Collage Necklace.
Isn't that something?!!! She's turned that little catpuss's paw into that of a savage beast - and is that gore up his arm?? Love it!!!!
Then there's this -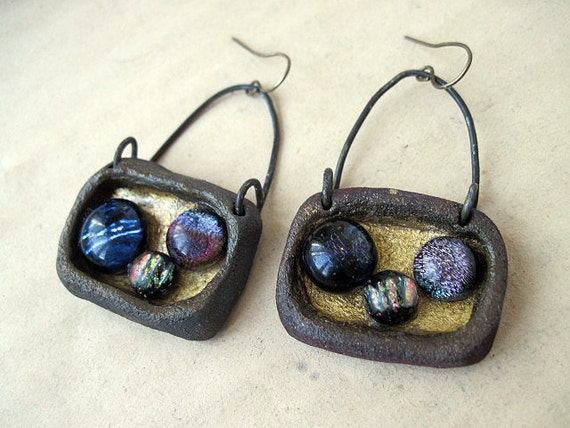 Philosophy in a Labyrinth. Cosmic Assemblage Earrings with Dicrotic Cabs adn Ceramic Bezels.Beads And Rosy Copper.
and this ......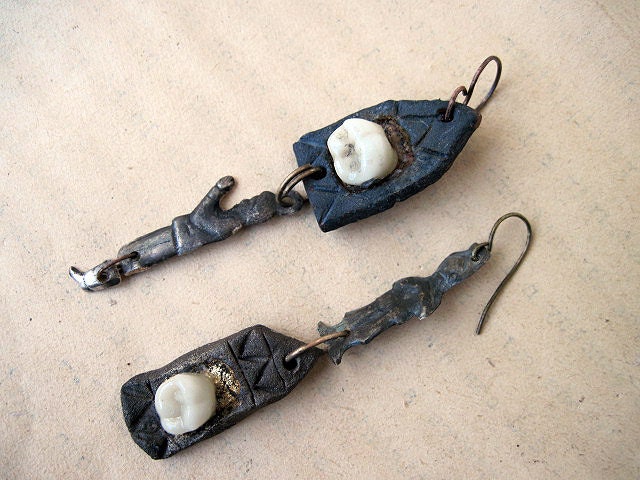 Common Nightmares. House Bezels with Antique Porcelain Teeth and Vintage Milagros.
I'm loving those teeth!!
You must all have seen Marcia's gorgeous piece featuring my tiki by now, but just in case you haven't - get a load of this -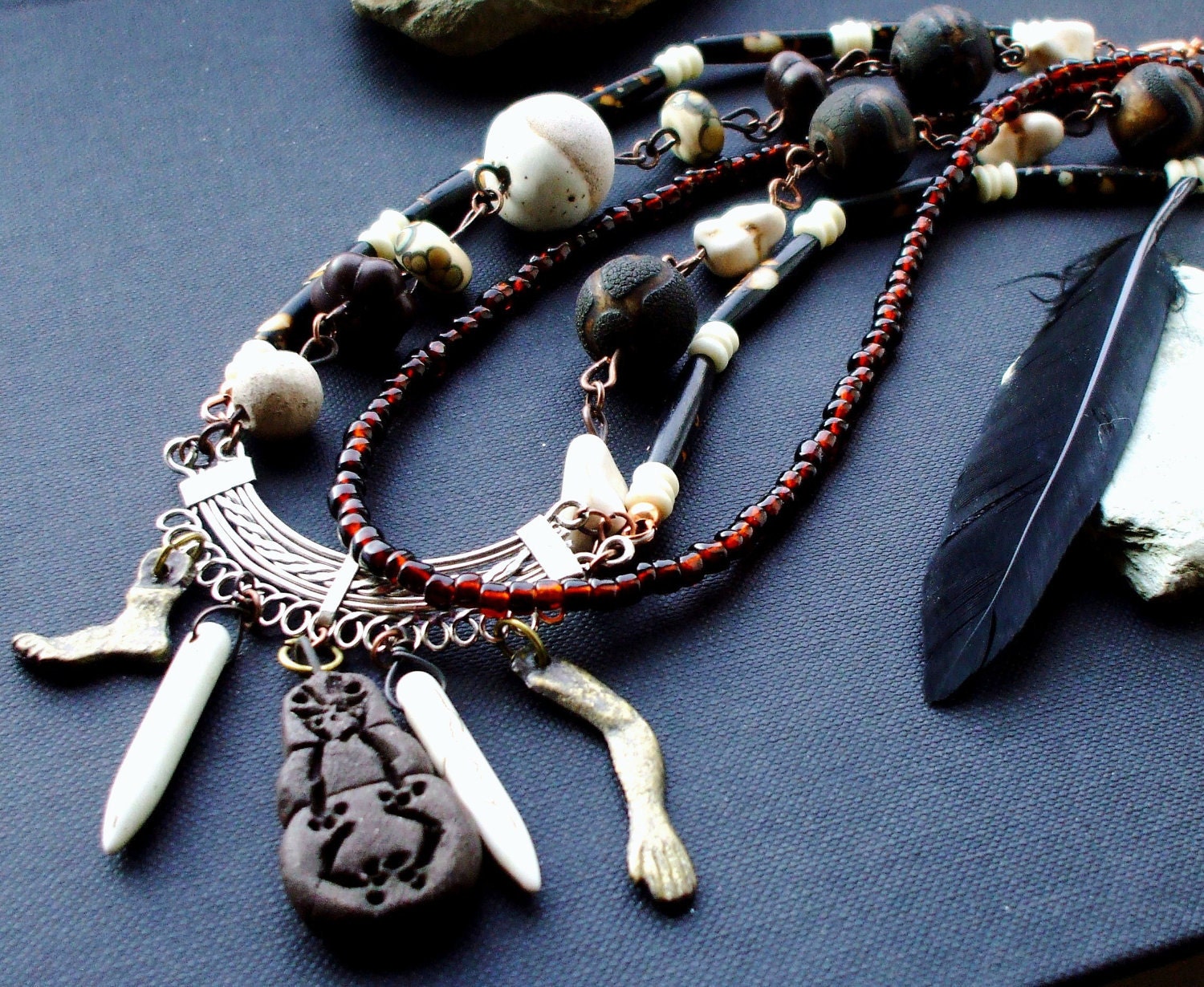 Tribal layered Necklace Warrior Nomadic Spiritual Tiki carved agate ceramic Nomad Spirit
If you haven't already, you really must check out her new look shop, 13 Alternatives, as she's got some beauties in there.
Oh now, look what my lovely bud, Janet made with this grinning fool of mine -
Now that's not something you see every day!!! I mean that in only the best possible way! She's the hunniest of bunnies, and has given me infinite support, encouragement and advice which has been invaluable.
These are some of her latest stunners ......
This isn't in her shop yet, but I'm sure it won't be there for long. This one is though,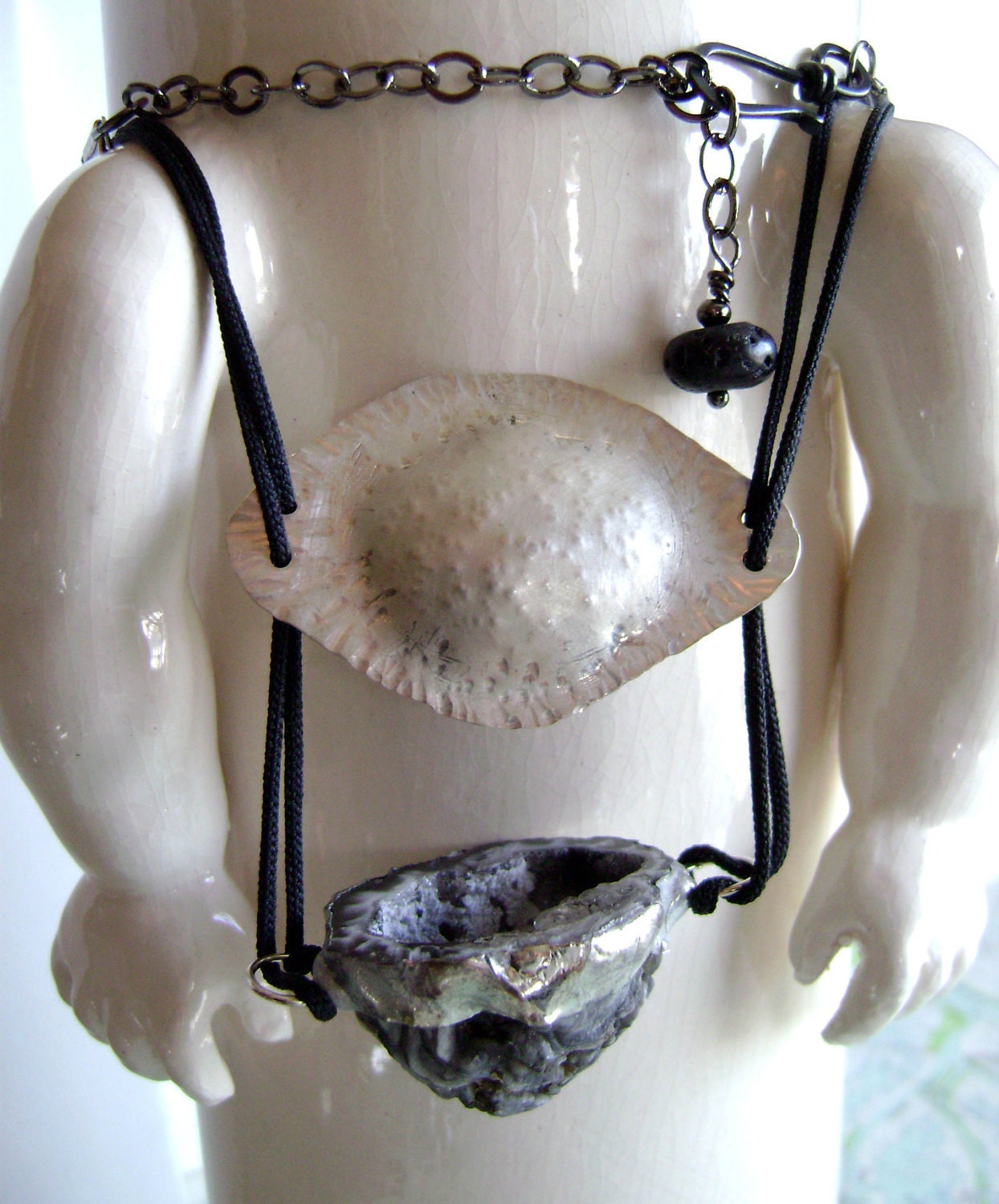 Geode Treasure Vessel necklace by Anvil Artifacts
And I just love these funky, colour filled, chickies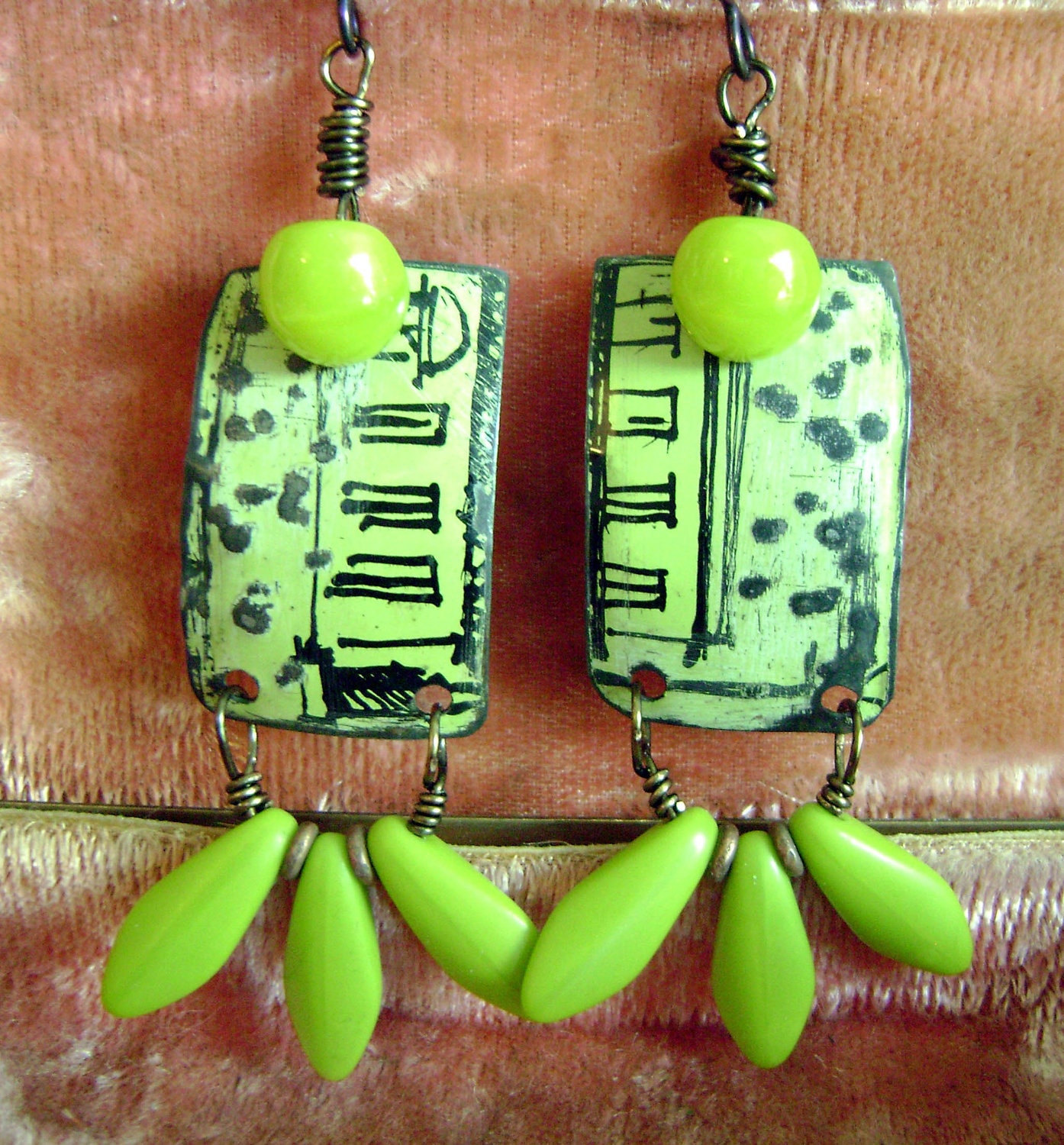 Lime green recycled vintage tin earrings by Anvil Artifacts
YUM!
So, with all this bead madness, I've hardly set foot out of the house, but I'll show you the pictures from Lee Abbey from a couple of weeks ago. There were some nice bits of splashy water which made me come over all Vivaldi. If you swap the order of the all and come in that sentence, it creates a whole different image!! Oh dear - show some pretty pictures, quick!!!
I know, I know - why can't I just stop messing with photoshop, eh? 'Cos I love all those purdy colours too much, that's why!!
Well now - thanks to Windows 7 on my new computer, it's only taken a day and half to find a way of getting these pictures from my folder to load onto here, so I'm feeling really, really pleased right now.
AAAAAAGGGGHHHHHH!!!!!! Like Blogger isn't quite enough of a nightmare in the pictures department already.
But, on a good note - a sure sign that Spring is just round the corner, has been the re-emergence of my little fuzzy friend here, who's once again been coming round for peanut butter sandwiches.
-and if you needed more convincing of the onset of Spring, well - if you look closely, you'll see that he brought his girlfriend along for a bit of action!!!
Well, I think that's about all from me for this time, except to say WELCOME! to the mighty Alek, and Beth, who looks like another superbeing, as she not only has an Etsy shop, but also a real live one as well to take care of!!!
Till next time then - stay warm, and think of Spring!!
XXX