Well, I shall attempt to stop being such an old misery dick for long enough to compose a half-decent post. Is IS January though, and well known for being a bit of a downer. Buying that? No - me neither.
To lift my spirits then, I think I'll start by spreading some lurve to my little band of members, who've been kindly enough to show some interest in my bloggering.
Lovely Janet of the rapidly soaring Anvil Artifacts has got a gorgeous giveaway on the go at the moment, which is WELL worth having a go at winning. Not one, not two - but three of the beauties!! Clap your eyes on these two - the third one's still in hiding.
Look at this beautiful wool from Carrie, the lady who can't stop spinning!! Those colours!!!! Lovely blog too.
Oh now, look at this from SaschiandSquee - isn't that something? It's a cigar box, called Swine Flu - Love IT!!!!!
So to the spectacular talent that is Stregata.
She said that she was wondering how to translate the theme of The Secret Garden into a piece of jewellery. Um - that's how! It's just magical.
It seems fitting that I finish this bit of slobbering adulation with her good buddy's latest in her shop. I'm not going to identify her purely by her love of liquidised food, like someone I could mention, but rather by showing a piece of her delicately delightful jewellery.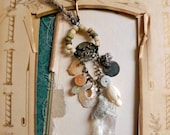 Of course, it's the sweetest of peas, Corvid Delights. This is unsurprisingly now reserved,
but it's anybody's guess why these extraordinary earrings are still going begging.
Too obvious? Yeah, I daresay they are - but I couldn't help myself. Hey ho.
Also in the earring department are these little loves, which are not quite as simplistic as they may look, and I'm rather enjoying that metallic lustre thing they've got going on.
What next? The Polynesian things are all in the shop now, along with that rotten little, hen-pestering foxy - oh, and that ginger creature with the pinwheel eyes.
If these come out as they look in the preview - then WTF Blogger? Why do you do this thing?????
There's more than a dab of Wonka about that chick.
My two latest are rather a showy pair of necklaces - this is the first -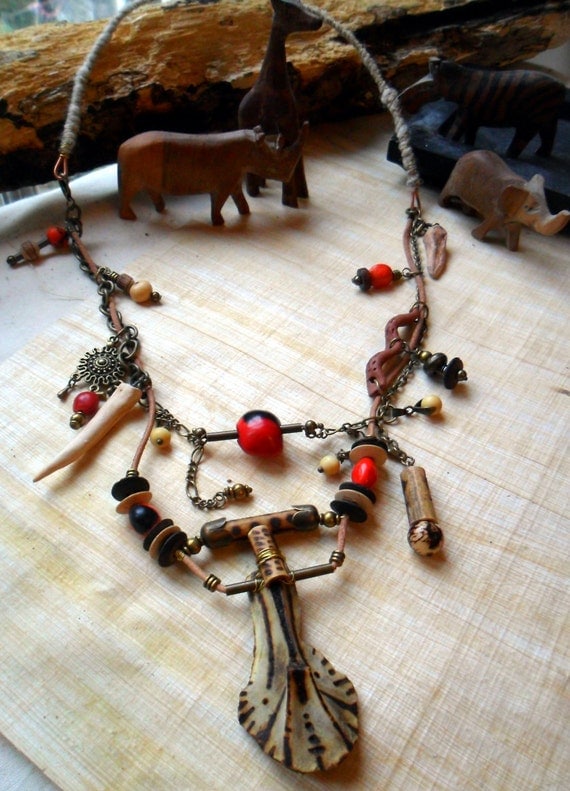 Uzazi
That's Swahili for fertility. Fanci likes saying widdle, and I'm getting pretty partial to the feel of UZAZI on my tongue. I find you can't help but lower your voice when you say that word!
I do like a nice bit of bone ( sorry again - no double-entre meant - honestly!), and I'm really hoping to be able to get my skanky paws on a bit of antler, tooth or horn (and again!) sometime soon. Hey - it'll be getting time for another peek at the badger soon as well.
Ok - moving on to the last one ( don't all cheer at once), another piece of peacock inspiration.
Well, this one seems quite fitting really, as I heard tonight that the beautiful chap who inspired this, was savaged by a dog, and has subsequently disappeared. Oh dear - this is the reality of country life, but that doesn't make it any easier to accept.
Here's a picture of that extraordinary chap with last year's tail going on.
Well now, I had intended to share with you some more pictures of my swoony surroundings in this post, following my latest shell-finding mission, but I think I've probably rattled on for long enough, so I'll choose to leave you wanting, and save them for the next one.
I'm going to be doing a giveaway of my own then, so stay tuned for a bit of wild and wonderful - and FREE!!!!
XXX